SERVICES

ATLAS Engineering offers the following services to see your project through to completion. We can handle all aspects of a project, from initial planning and consultation through construction inspections, or assist with particular phases as necessary to keep a project moving forward.

Planning

Our experience with various types of development and construction, as well as our good standing with local building Departments and agencies, allows us to appropriately navigate your project through the often complicated process of approval. Planning services include preliminary designs and coordination with the reviewing agencies, such as the Coastal Commission and Historic/Design Review Committees, as well as utilities such as PG&E and local service districts. And we offer a complete team of knowledgeable sub-consultants, including surveyors, contractors, and designers, to help identify potential permit issues and gain approval for your proposed development.

Engineered Designs

More than anything, ATLAS is an Engineering firm with the ability to provide complete, in-depth structural and civil designs for even the most complex projects. We strive to stay up-to-date with the most current and innovative building materials and construction techniques. And our efficient designs lead to reduced costs during construction, with more effective use of materials and "contractor-friendly" engineering that is actually buildable. Our engineers build small projects themselves to gain a further understanding of possible complications in the field.
- Custom Residential Homes & Additions
- Commercial Buildings
- Historic Buildings & Water Towers
- Commercial Kitchens & Restaurants
- Breweries & Wineries
- Steel Frames
- Metal Building Foundations
- Retrofits & Repairs
- Elevator Installations
- Change of Occupancy
- Special Structures
(Climbing walls, fish structures,
custom concrete elements, trash enclosures)


Drafting Services

We offer technical drafting with CAD-type programs to prepare engineered plans for submittal and construction. Technical detailing includes wood framing, concrete and masonry construction, and structural steel framing and welding. We also offer complete Construction Documents, with plan views, sections and framing elevations, as well as road profiles and grading for subdivisions.
Project Management and Permitting

Along with Planning, we also offer complete project management services and assistance with permitting of your project. Project Management includes coordination with local building departments and utilities, Engineer's estimates and bid reviews, and permit resolution as necessary before and during construction. We will handle all submittals and Plan Check comments, and we will attend all necessary meetings and inspections on behalf of the client.

Inspection & Structural Testing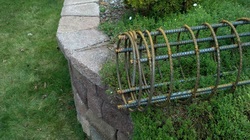 As a compliment to our engineered designs, we also offer complete inspection and testing services for all of our projects. All testing is done in accordance with ASTM standards, and we can coordinate any inspections that are not typically performed by our office. Structural testing includes concrete sampling and slump testing, and continuous or periodic inspections can be performed as required.

---